1940-2015
As one of our first patients, Grover L. Cummings is a legend at Mary Crowley. We celebrate Grover's undeniable courage and determination to survive cancer. Initially, he just wanted to live long enough to see his daughter, January, get married, even though physicians had only given him six months to live.
In 1994 at the age of 55, Grover discovered a lesion on his back. It appeared benign but the physician removed it out of caution. The biopsy revealed that the lesion was melanoma. From 1994 to 1996, Grover underwent four more major surgeries.  The melanoma first metastasized to his lung. Not long after the lung surgery, the melanoma appeared in his intestines. The third time his cancer appeared, physicians said operating was futile, but Grover found one surgeon who would operate.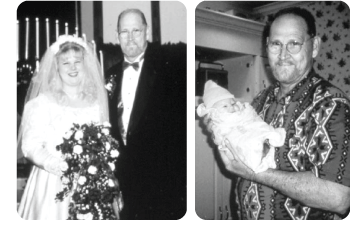 Grover, the 6'4" gentle giant, continued to fight. A physician told Grover he might be a candidate for a new clinical trial. Grover found his way to an office filled with unopened boxes and Dr. John Nemunaitis, who had just moved to Dallas to work at Mary Crowley Cancer Research. He asked the young oncologist to keep him alive so he could attend his daughter's wedding; Dr. Nemunaitis accepted the challenge. But scans revealed the cancer had progressed to his brain and had to be removed before the clinical trial could commence. Dr. Nemunaitis called several neurosurgeons before finding one who would remove a brain tumor from a terminal cancer patient. This was Grover's fourth surgery, which was then followed by full brain radiation.  The radiation was extensive, but patients like Grover were not supposed to live long enough to experience the long term effects of the treatment.
Dr. Nemunaitis subsequently enrolled Grover onto the clinical trial that he hoped would keep him alive through the wedding. Grover and Dr. Nemunaitis were elated when the trial worked. GROVER WALKED HIS DAUGHTER DOWN THE AISLE! Not only that, Grover continued to improve year after year with no evidence of cancer. The rest is a 20-year history. Grover lived to enjoy the birth of January's daughter, who turned 18 in 2015, and he continued to spend time with his beloved family.
Grover also did not want to die of cancer, and he received that wish as well. He died in December of 2015 of pneumonia and NOT CANCER, at the age of 75.
He made a difference.
What better way to commemorate the 20th anniversary of Mary Crowley than to reflect on Grover's 20-year survival and the HOPE he gave to all of us.